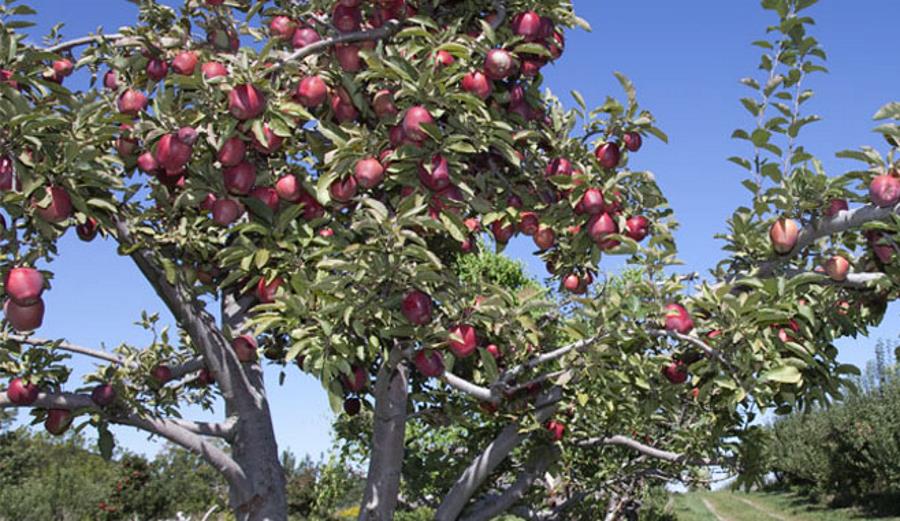 Visit the Victor Apple Farm, Kellys Fruit Farm or any one of the numerous U-pick apple orchards in the Finger Lakes on a crisp, fall day to pick your own fresh, juicy apples and enjoy the fall foliage. Apple picking is a fun activity for the kids and something for the whole family together. Whether you want apples for apple pies and apple crisps, apple cider, homemade apple sauce, or for just a healthy, delicious snack, you can find all kinds of wonderful varieties of apples grown in the Finger Lakes… Autumn Crisp, MacIntosh, Macoun, Cortland, Red Delicious, Paula Red, Gingergold, Honeycrisp, Rome, Fuji, Gala, 20 Oz., Empire, Golden Delicious, Liberty, Crispin, Northern Spy, Jonagold, Ida Red, Fortune.
You may also like…
The following is a list of U-Pick farms where you can go apple picking in the Finger Lakes and Rochester area of Central NY and Western NY.
The Apple Farm – Victor, NY
The Victor Apple Farm, located on State Route 444 about two miles south of the Village of Victor, grows 11 varieties of apples, each having its own unique characteristics. Each variety of apple ripens at a different time throughout the growing season so each week a new variety may become available for you to pick your own apples from late August through the end of October.
Other happenings at The Apple Farm in Victor, NY:
Corn Maze: The Victor Apple Farm now has the Empire corn maze!
Apple Cider: The Apple Farm cider is made from 100% fresh-pressed apples, with no preservatives or additives.
The Apple Farm Bakery: Enjoy apple donuts, pies, turnovers, apple cider slushies, and other delicious goodies.
Unholy Orchard Haunted Hayride: Unholy Orchard is a 30-minute haunted hayride taken on a tractor drawn wagon through 160 acres of spooky apple orchard, where you will encounter over 25 psychopathic and deranged characters.
The Unholy Orchard will be open on Friday, October 28 and Saturday, October 29 from 7pm to 11pm and on Sunday, October 30 from 7pm – 10pm. Unholy Orchard at The Apple Farm has food trucks and other concessions available.
Kelly's Apple Farm and Farm Market – Hilton, NY
659 Wilder Rd, Hilton, NY
Phone: (585) 392-8102
Hours: 9am – 6pm daily
After picking apples in the orchard at Kelly's Apple Farm, stop in Kelly's Farm Market and relax by the fireplace on a comfortable couch and soak up the rustic, homey atmosphere where you'll be surrounded by the smell of fresh baked apple pies, pumpkin bread (with chocolate chips, yum!), donuts, desserts and fudge. Watch them press fresh cider, pick up a pumpkin or 2, and don't miss their cup of apple crisp with caramel or ice cream.
U-pick Apple Farms in the Finger Lakes
Alasa Farms/Cracker Box Palace – Alton
Alasa Farms/Cracker Box Palace Animal Haven
6450 Shaker Rd. Alton, NY 14413
Phone: (315) 483-2493
Website: www.crackerboxpalace.com
Bakers Acres Inc – Groton
Brown's Berry Patch – Waterport/Albion
Burnap's Farm Market – Sodus
Fisher Farms – Brockport
467 Euler Rd. Brockport, NY 14420
Phone: (585) 637-9631
Great Gift Idea! Make apple peeling fun, not a chore! This Apple Slicing, Coring and Peeling Machine peels apples and potatoes easily, just like your grandmother's apple peeler. Cast Iron Apple Peeler by Purelite is built from heavy duty Cast Iron and has a powerful rubber vacuum base that suctions the peeler onto the tabletop.
G and S Orchards – Walworth
Glenora Farms – Dundee
340 Dundee Glenora Rd. Dundee, NY 14837-8838
Phone: (607) 243-8383
Grandview Farm – Macedon
Green Acre Fruit Farm – Greece
Grisamore Farms – Locke
Hurd Orchards – Holley
Kelly's Fruit Farm – Hilton
Kirbys Farm Market – Brockport
Lagoner Farms – Williamson
Littletree Orchards – Newfield
Morgan's Farm Market – Marion
Cory Corners and Marion Walworth Rd (Rt 441)
3821 Cory Corners Rd. Marion, NY 14505
Phone: (315) 926-0910
Website: www.morgansfarmmarket.com
Noto Fruit Farm – Williamson
Ontario Orchards Farm & Market – Oswego
Orbaker Fruit Farm – Williamson
3451 Lake Rd. Williamson, NY 14589
Phone: (315) 589-2036
Owen Orchards Inc – Weedsport
8174 Grant Ave. Rd. Weedsport, NY 13166
Phone: (315) 252-4097
Reisinger's Apple Country – Watkins Glen
Roanoke Apple Farms – Stafford
6370 East Bethany Leroy Rd. Stafford, NY 14143
Phone: (585) 768-2042
Robb Farms – Spencerport
800 Gallup Rd. Spencerport, NY 14559
Phone: (585) 352-0814
Website: www.robbfarms.com
Seneca Orchards – Clifton Springs
2881 Orleans Rd. Clifton Springs, NY 14432
Phone: (585) 526-5296
Silver Queen Farm – Trumansburg
5286 Stillwell Rd. Trumansburg, NY 14886
Phone: (607) 387-6502
Spring Wagon Orchards – Penn Yan
2732 Wager Hill Rd. Penn Yan, NY 14527
Phone: (315) 536-0480
The Apple Barrel – Penn Yan
The Apple Farm – Victor
The Apple Station – Cayuga
Wager's Country Apple – Red Creek
7047 Main St. Red Creek, NY 13143
Phone: (315) 754-6491
Watt Farms – Albion
3121 Oak Orchard Rd (Rt. 98) Albion, NY 14411
Phone: (585) 589-8000
Website: www.wattfarms.com
Whittier Fruit Farm