Saturday September 02, 2023
The Ring of Fire is held on Canandaigua Lake and Keuka Lake the Saturday before Labor Day each year. (Hoeoye Lake and Conesus Lake holds their Ring of Fire celebrations on Fourth of July weekend, as well as an additional Keuka Lake Festival of Lights on July 4th)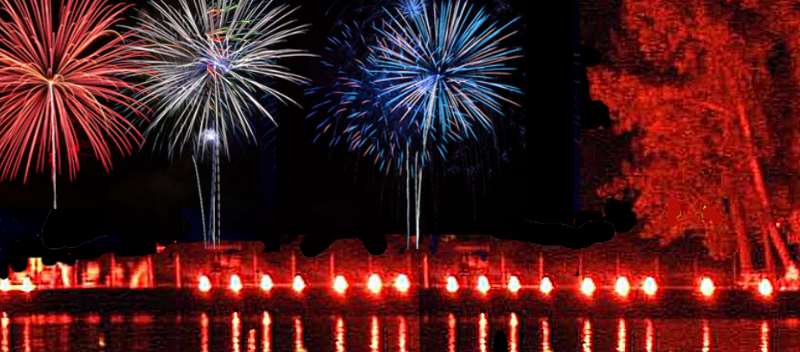 Ring of Fire marks the unofficial end to summer in the Finger Lakes. The celebration starts at 9 p.m. on the Saturday of Labor Day weekend. On Canandaigua Lake, in Canandaigua, NY, the first fire is lit at the top of Bare Hill overlooking the lake. Shoreline residents then light flares, creating a glowing ring around the entire lake. There are plenty of private fireworks displays going on around the lake to enhance the celebration.
The Ring of Fire is a spectacular site. Businesses and residents light flares along the shoreline, creating a ring of red lights around the lake and casting everything in an eerie red glow. This tradition stems from a Seneca Indian harvest festival where the Seneca would burn tobacco around the shore of the lake to give thanks for bountiful harvests. Many residents also choose to have private fireworks displays during that time.
History of the Ring of Fire and Genundowa Day
Genundowa (Festival of Lights) is a Seneca Indian custom where lake fires were lit to express gratitude for being saved from the Great Snake and for good hunting and fishing. Nowadays flares are used for Ring of Fire, but originally, the lake was lit with cattails soaked in kerosene and strategically stationed around the lake.
Directions to Bare Hill:
Take Route 364 (East Lake Road) south and turn right toward Canandaigua Lake on North Vine Valley Road (Yates County Road 10) by the Overackers Corners School House. Go about a mile, then turn right onto Bare Hill Road and go a short way before turning left onto Van Epps Road. Travel west to the parking lot; parking is limited.
If you would like to watch the bonfire lighting on Bare Hill, plan to arrive at the Van Epps Road (off Bare Hill Road) parking circle before 8:00 p.m. because you'll need to walk a mile before reaching the top of the hill, the summit of which is 865 feet above the lake. Transportation to the top of the hill will be provided for the elderly and disabled.
Where to Purchase Flares
Canandaigua Lake Watershed Association, Inc. makes flares available for purchase at various retailers throughout the Canandaigua, NY area.