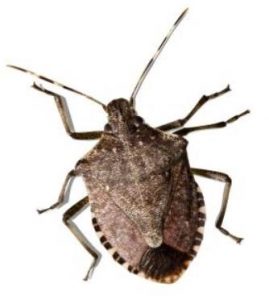 Yuk! Every time I look up, there is another stink bug on my window screen. It's freaking me out.
How do you get rid of stinkbugs? Stink bugs don't bite and are harmless to humans, but they are ugly and they release a nasty smell when they are squished, scared or disturbed. Indoors, the smell can linger in the home, in the vacuum, or on anything that the stinkbug leaves it scent on. Outdoors, stink bugs eat and ruin plants, including fruits, vegetables and flowers. They tend to like to eat the leaves and seeds of black locust, maple, ash, other trees found in this area.
Stink bugs are active in the spring (March and April) when they wake up from their winter sleep, and also in September when they leave the trees they spend summer in and are trying to find a nice warm place for their winter nap. Around here, the type of stink bug found is known as the Brown Marmorated Stink Bug, named from the brown marbling pattern on its back. Stink bugs are about 3/4 long and you can identify them by the five-sided, shield-shaped body, stripes on their antennae and a striped pattern along the abdomen.
Stinkbugs can be very difficult to eliminate from your home. The key is to prevent stink bugs from entering your house in the fall. There are a few safe do-it-yourself methods to keep stink bugs out of your house without resorting to using pesticides and chemicals:
DIY Stink Bug Prevention
Rub screens with dryer sheets – Stink bugs don't seem to like the odor of fabric softener dryer sheets like Bounce.
Smush a few stink bugs outdoors so that they release their odor. The other stink bugs may heed the warning smell and leave.
Fix windows, screens and any gaps around doors, windows, vents, air conditioners and other spaces where they can sneak into your house.
Once the stink bugs get inside your house, you will want to gently remove them without squishing or scaring them.
Tips how to get rid of Stink Bugs from your home:
DO NOT SQUISH stink bugs indoors. Trap them in a cup or plastic bag and release them outdoors or flush them down the toilet. Do not touch them with your bare hands if you don't want smelly hands.
Spray stink bugs with soapy water from a household spray bottle to kill them.
Drown stinkbugs in a cup or bucket of soapy water.
DO NOT VACUUM stink bugs into a bagless home vacuum or your vacuum will stink. If your vacuum has a bag, empty it right away after sucking up stink bugs.
Do not kill them and leave them (like in the walls or crawlspace) or they will start to stink, even dead.
Spray them with Lysol. Kill the bug and the odor at the same time!
A fun way to catch and release Stinkbugs!
With the battery-free Bugzooka Bug Catcher Vacuum, you can easily capture and release unwanted stinkbugs and insects from your home without having to touch or squish the critters. Capture wasps, spiders and flies into a removable tube for safe and easy transport outside (or into the toilet). Simply push the bellows at the base of the BugZooka to compress the air and push the trigger. The BugZooka will suck up the bug into the tube. Pretty easy!!! The telescoping arm extends up to 24″ so you can stay far enough from the bug. Being battery-free, there's no need to worry about the battery being dead when you need it, and it's a lot quieter than the battery operated bug vacuums. It's perfect for stinkbugs!
Read reviews and purchase the Bugzooka Bug Catcher Vacuum from Amazon.com.