Finger Lakes Photography Center in Canandaigua, NY – camera consignment shop, classes, studio rental and more
The Camera Consignment Shop at the Finger Lakes Photography Center is now open in Canandaigua, NY. The center is a gathering place for photographers and offers Photography Classes and Workshops, a Camera Consignment Shop, Studio Rental, Client Meeting Center and Large Format Archival Printing.
Camera Consignment Shop
The Finger Lakes Photography Center has a stocked consignment shop to buy or sell used camera and photography equipment. Items in stock include camera bodies and lenses by Nikon, Canon and more. There is also camera bags, lighting and flashes, tripods, backdrops and other photography related items.
Check out the current consignment shop inventory at the Finger Lakes Photography Center website. This inventory constantly changes, so check often for updates.
Photography Classes
Recent photography classes have been held covering a variety of topics such as DSLR Basics, Nightscapes – Shooting the Rochester Skyline at Night, Sports Photography, Product Photography, Wildlife Photography, Car Photography, Wedding Photography,
Some upcoming classes include:
DSLR Basics Class
Learn the all the bells and whistles of your DSLR, what each button does and when to use them. You'll learn the basics how to use aperture, shutter speeds and ISO to get the proper exposure.
Nightscapes – Shooting the Rochester Skyline at Night
In this class we will be photographing the Rochester Skyline from several different vantage points. You learn the techniques needed for optimal sharpness and composition. A tripod is critical as proven by my grab shot of the NYC skyline above without one. Bring both wide angle and telephoto lenses.
Product Photography
This class will explore the different styles of product photography. If you do a lot of eBaying, Craigslist, Etsy, etc…or want to market product photography on your own website this is the class for you. We will work with different lighting set ups, backgrounds and materials such as jewelry, glass and of course camera equipment.
Sports Photography
Learn how to get the most out of your action photography with Sigma Pro Team Sports Photographer Steve Chesler. In this class you'll learn how to set your camera, what lens to use and how to prepare mentally to get great action shots. We'll cover scenarios for different sports both indoors and out. Bring your camera, lenses and a notebook.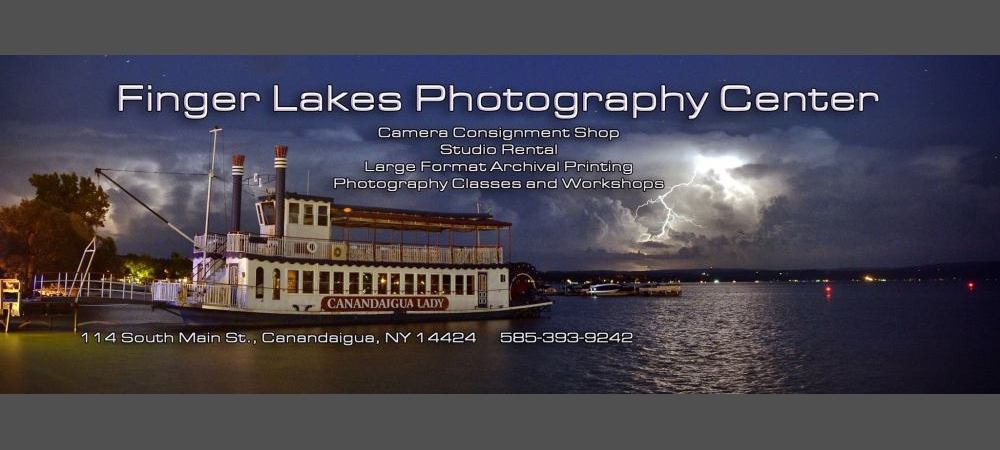 Studio Rental
The Finger Lakes Photography Center studio is available to rent on an hourly basis with full use of backdrops, props, lighting and radio triggers. This is the perfect opportunity to offer studio services without the overhead. To check availability, call 585-393-9242.
Large Format Printing
The Finger Lakes Photography Center has an Epson 2200 archival printer and a large format Epson Pro 7800 printer that can print 24″ wide by dozens of feet long. The 7800 is set up to print on archival matte paper with Epson UltraChrome Ink which is rated at 150+ years archival stability.
Visit the Finger Lakes Photography Center group page on Facebook for the latest information on classes as well as to share in our open forum with other area photographers.
Finger Lakes Photography Center
at Chesler Photography
114 S. Main Street
Canandaigua, NY 14424
Phone: 585-393-9242
E-mail:steve@cheslerphoto.com
Website:www.FingerLakesPhotographyCenter.com
Finger Lakes Photography Center on Facebook