An oldie but goodie, this is a really cute flyfishing story posted by Steve Chesler on his blog at Cheslerphoto.com.
---
Teach a man to fish and he'll eat for life. Teach your son to fish and you'll smile for life.

Steve Chesler
Pride
My Freshman year of high school I was the only rookie on my high school hockey team. I had never played in a check league before so I was deathly afraid of my first shift. It wasn't until the last minute of my first game that I actually got to touch the ice. I skated in to the corner after a loose puck and immediately got sandwiched to the boards like a panini. I wobbled back to the bench as manly as I could, climbed over the boards gasping for the breath that had been knocked out of me and said to my line mates, "That didn't hurt."

A few weeks later, I had been promoted to the second line. All the stars aligned one game and as I was standing in front of the net I got knocked to my knees as the puck landed in front of me. I hacked at it with my stick and got just enough of it to send it gracelessly bouncing on the ice. It was like slow motion as the goalie bent down to pick up the puck that was barely moving and in true Bill Buckner fashion, he missed. It trickled in to the net for the most technically inefficient goal ever scored, but it was my goal. At the end of the game as I stepped off the ice, I saw the twinkle in my Dad's eye he was so filled with pride. I will never forget that moment as he put his arms around me and said, "You're not a virgin anymore!" He always had a way with words.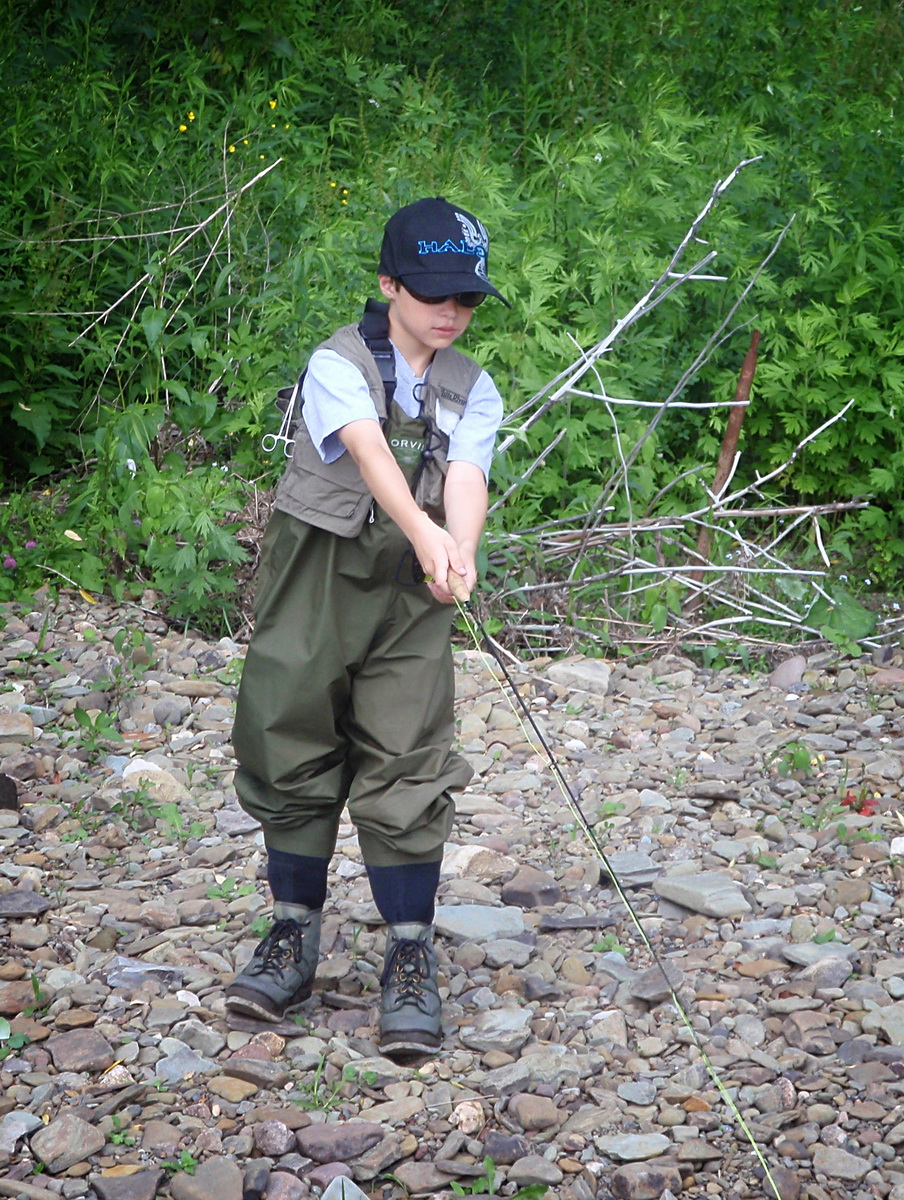 For several years now, I have been taking my son fly fishing. He has caught a few chubs and blue gills on the fly rod, but never a trout. It was becoming an obsession of his to catch that first one. Earlier this summer I brought him down the Springwater Creek south of Hemlock Lake. The creek is not known as one of the areas best streams, but it was perfect for him with lots of small rainbow trout. Rainbows tend to be a little more aggressive and the young ones aren't as wise as their elders. Right off the bat Cade began to have a few tugs on the line but his inexperience got the best of him as he couldn't set the hook quickly enough. Cast after cast he slowly noticed and corrected his mistakes until it finally happened. A beautiful six inch rainbow hit the line and didn't let go. Cade was so excited he wasn't sure what to do beside dragging the little gem out of the creek on it's side.
I was so excited for him I almost forgot to take pictures, but I was determined to document this moment three years in the making. The pride I felt inside was intense at my little guys accomplishment. The excitement of his first trout didn't last long though because the second one came shortly after, and a third and fourth and fifth…for a total of nine trout that day. He was so excited we went back the next day and he caught six more.
Teach a man to fish and he'll eat for life. Teach your son to fish and you'll smile for life.